How to order
Ordering with BritiShop is quick and simple via our online store.
1. Search or browse to select your products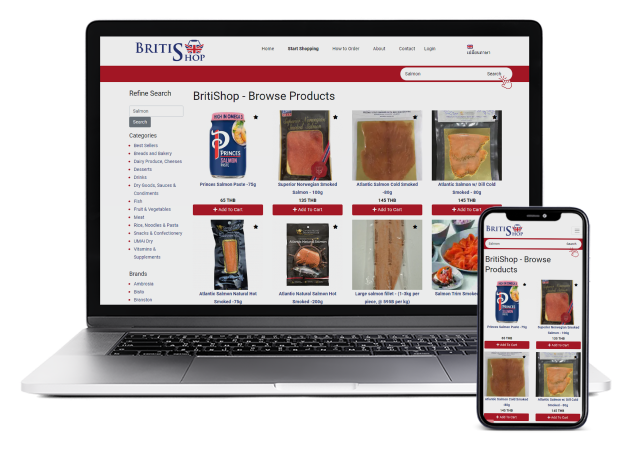 2. Review items in your shopping cart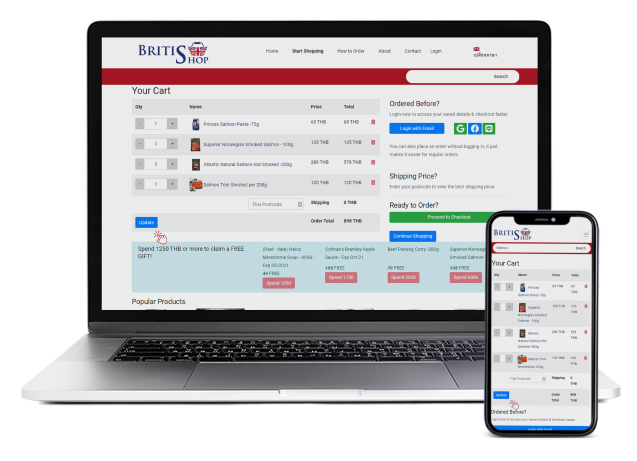 3. Proceed to the checkout page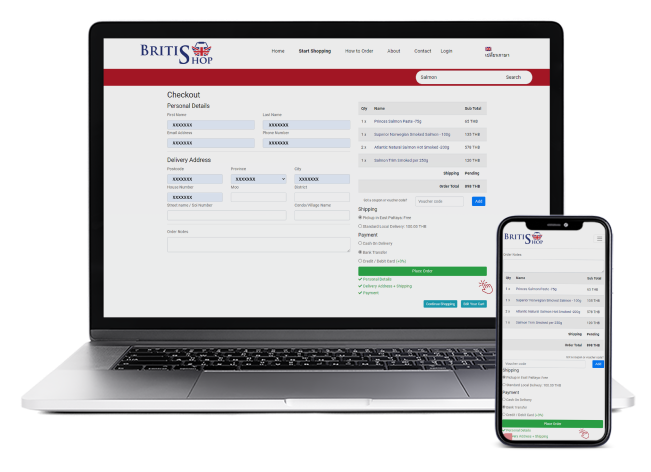 4. Confirm order & select payment/shipping options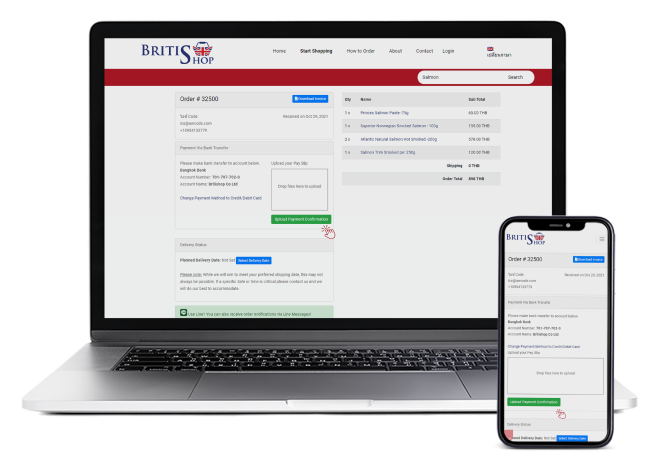 How To Make Payment
We accept a variety of payment methods in order to make things easy for you.
You can select your preferred payment option when on the checkout page.
Thai Bank Transfer
If you have a Thai Bank account you can transfer through online, mobile or ATM banking.
Or you can even make a deposit within any Bangkok Bank branch.
Credit or Debit Card
You can also pay securely online with any Thai or International credit/debit card
Cash On Delivery - Pattaya Area ONLY!
Within Pattaya, Sri Racha and Bang Saray we will conduct delivery with our own drivers and can accept Cash On Delivery (COD)
Outside this area we use a 3rd party transport company who do not accept COD so unfortunately this is not available for nationwide delivery.
Delivery Options
Free delivery
Free delivery is available for all orders, depending on the delivery location and how much you spend.

Pattaya – All orders over 1000 B
Sri Racha – Orders over 1,000 B, Evenings only
Bang Saray – Orders over 2,000 B, Wednesday only
Everywhere else – Orders over 5,000 B


Pattaya Area
Orders in Pattaya, Bang Saray and Sri Racha will be delivered by our own drivers.
If you are not eligible for free shipping this will have a shipping fee of 100-200B applied.

You can also pickup from our shop in East-Pattaya for no charge.
Ordering in advance is recommended so we have time to prepare your order, not all items are kept in store.
Nationwide Delivery (Chilled)
Orders elsewhere in the country which contain any chilled/frozen items, will be sent in a foam box packed with dry ice, using a specialist temperature controlled transport company.
This does cost more than delivering non-chilled items but is necessary to ensure your goods arrive fresh. Rates are displayed during checkout which are based on the sizes of the foam box and destination.

Guideline prices (subject to change)
Bangkok & Near zone: 140-270B
Mid Zone: 200-380B
South & Islands: 270-400B

Nationwide Delivery (Non-Chilled)
Orders containing no chilled items are able to benefit from cheaper shipping through couriers such as Kerry Express.

Price will be confirmed during checkout and varies by size, weight and destination.

Frequently Asked Questions
You don't need to have previously registered to order with BritiShop.
If this is your first order an account will be created automatically at checkout, giving you easy access to your order.
For regular customers logging in before or while placing an order will be easier as your address and contact details will be remembered.
You can login with your email and password, or using social accounts (Google, Facebook, Line) if they are linked to your same email address.
BritiShop was originally an online-only store.
However we have now opened a retail store inside AW Business Services, on Soi 16 Siam Country Club, East Pattaya.
Not all product lines are kept in stock so you can either walk in and look at whats available, or order online to arrange in-store pickup.
Deliveries will generally arrive between 1-3 working days after you place your order.
After checkout you will be given the chance to select your preferred dispatch/delivery date and possibly time.
Pattaya Area - Delivery Date and time choices available, managed by our own drivers.
Rest of Country - Dispatch date can be chosen and products will arrive normally the next day, sometimes the day after that. Goods are sent with a specialist temperature controlled transport company and kept chilled during major transit and storage.
We do not send orders out on Weekends, orders received on Friday or weekend will generally be sent out on Monday.
If we have advance notice of the unavailability then we contact you and suggest any alternative products which are available.
If we become aware of unavailability with short notice are are unable to contact you in time we will adjust the order and reflect the amount due for COD, or issue a voucher/points/refund if already paid.