French Onion Soup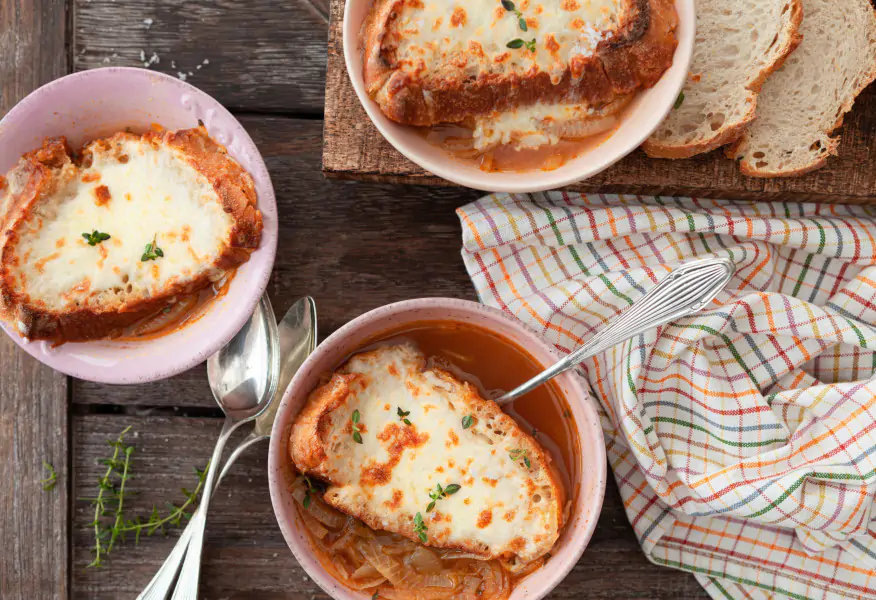 Cooking Method
Directions
Slice the onions into strings of medium-size. They'll shrink down and you don't want them too thin. (Using a mandoline slicer makes this much easier).
Melt the butter in a large (4-5 quart) soup pot or dutch oven over medium-low heat. Wait until it begins to foam, this allows water to evaporate out, leaving the butter more clarified and smooth.
Add the onions and use tongs to toss and coat them in the butter. Leave them uncovered as they cook.
The onions will caramelize slowly, this takes patience. 6 large onions could take over an hour to fully caramelize. Stir the onions every 15 minutes or so.
As the onions caramelize, they may leave some brown residue at the bottom of the pot. Add a splash of wine and use a silicone spatula to 'clean' the bottom of the pot. Repeat as needed throughout the cooking process.
During the last 15 minutes, add any remaining wine and increase the heat to medium-high. Toss the onions more frequently. They are done when they are richly brown and sweet.
Add the beef broth, chicken broth, Worcestershire sauce, bay leaves and thyme. Simmer for another 45 minutes, with the lid cracked.
While the soup simmers, preheat the oven to 350 degrees.
Slice the baguette into ½ inch thick slices. Brush the tops with olive oil and bake for about 5 minutes.
Increase the oven temperature to 450 degrees. Top each baguette with cheese and bake in the oven until the cheese melts and begins to bubble and brown.
Remove the bay leaves and thyme stems. Season to taste with salt and pepper.
Ladle the warm soup into each bowl and top each of them with the warm baguettes. Serve!
View More Recipes
Browse Products
Refine Search