Full English Breakfast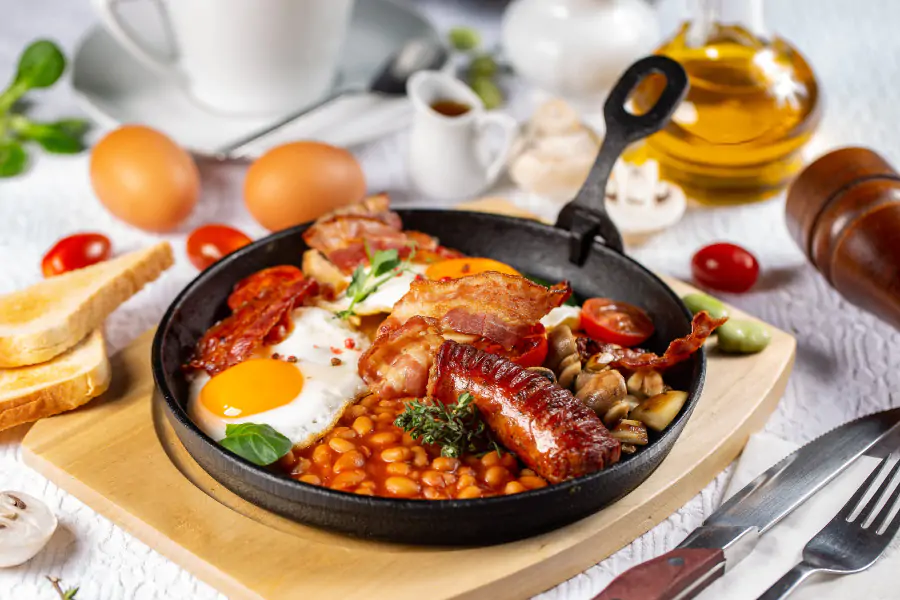 Cooking Method
Preheat the oven to 220 C / Gas 7.
In a frying pan over medium heat, brown the sausages on all sides and cook for 5 minutes. Transfer to a baking dish.
Bake the sausages in the oven for 10 minutes.
Score a cross into the bottom of the tomato and place, cross side up, in the baking dish with the sausages.
Bake the sausages and the tomato for 10 minutes. Turn off the oven, but do not remove the sausages and tomato.
Meanwhile, in the frying pan used to brown the sausages, melt a tablespoon of butter and fry the bacon, hash browns, and mushrooms over high heat for 7 minutes until the mushrooms have softened, the bacon begins to crisp and the hash browns turn golden. Transfer to the oven to keep warm.
In a small saucepan over medium heat, add the beans and stir frequently.
Finally, fry the egg with the yolk unbroken to desired consistency and toast the bread. Use the remainder of the butter to spread over the toast.
On a warm serving plate, bring together the sausages, hash browns, bacon, beans, tomato, mushrooms, fried egg, and toast. Season well, garnish with parsley, and serve immediately.
View More Recipes
Browse Products
Refine Search