Scotch Eggs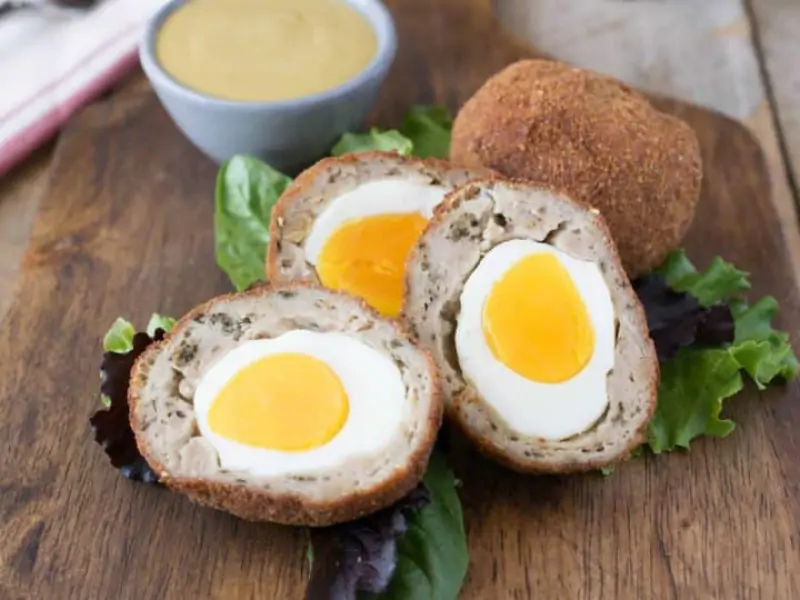 Cooking Method
Put 8 eggs into a pan of cold water and bring to the boil. Boil for 3 to 4 minutes, then transfer to a bowl of cold water. Once cooled, carefully peel them since they will still be runny in the middle.
Squeeze the sausages out of their skins and into a bowl.
Pick and finely chop the herb leaves, add to the sausage meat along with a good grating of nutmeg, the mustard and a good pinch of sea salt and black pepper. Give it all a good mix together then divide into 8 balls.
Have 3 plates ready - one with a small handful of flour, one with the two remaining eggs (beat them together first), and a third with the breadcrumbs.
Start by flouring your hands, then in the palm of one hand, flatten one of the sausage balls into an oval-shaped pattie.
Roll a peeled egg in flour, then pop it in the middle of the patty. Gently shape the meat evenly around the egg, moulding it with your hands until sealed.
Roll the meat-wrapped egg in the flour, shake off any excess, then dip into the beaten egg, followed by the breadcrumbs. Roll in the egg and breadcrumbs again for a really good coating.
Heat the oil in a deep pan or deep fat fryer to about 150ºC/300ºF.
Carefully lower the eggs into the pan and cook for 4 minutes, or until golden, turning them every so often. Remove with a slotted spoon and drain on kitchen paper. For a healthier option these work well in an airfryer with a splash of oil.
View More Recipes
Browse Products
Refine Search