Beef Moussaka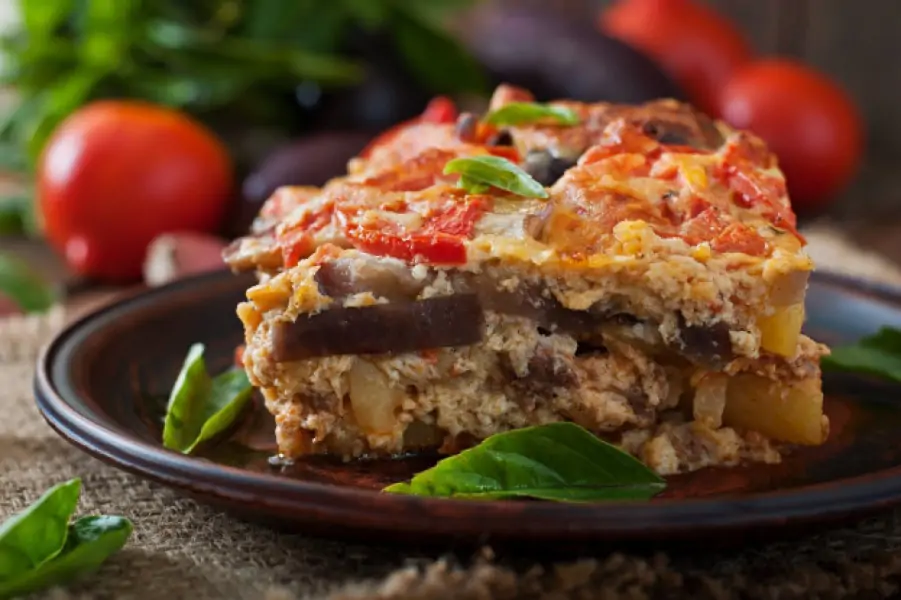 Cooking Method
Directions
Preheat the oven to 200°C. Spray a rimmed baking sheet with cooking spray. Toss the aubergines, potatoes, olive oil, 1/2 cup water and 1/2 teaspoon each salt and pepper in a large bowl, then spread the vegetables on the baking sheet. Roast until tender, about 45 minutes, tossing the vegetables about halfway through. Set aside.
Meanwhile, make the Meat Sauce: Heat the olive oil in a large nonstick fryig pan over medium heat. Add the onions and cook, stirring, until soft and beginning to brown, 5 to 7 minutes. Add the tomato paste, oregano, cinnamon, garlic and ginger; stir quickly to toast spices evenly. Once fragrant, add 1/2 cup water to the pan and stir to combine, scraping up any brown bits. Add the beef to the pan, stirring with a wooden spoon to break it up, and cook until lightly browned, 8 to 10 minutes. Add the wine, vinegar, 1 teaspoon salt and a few grinds of pepper. Cook until the meat is fully cooked and the juices are reduced slightly, about 5 minutes. Remove from the heat, stir in the parsley and set aside.
Make the Bechamel: Put the milk and flour in a small saucepan and whisk until the flour is dissolved. Place the pan over medium heat and whisk continuously until the mixture comes to a boil; continue to whisk until thick enough to coat the back of a spoon, 10 to 12 minutes. Add the nutmeg and 1/2 teaspoon salt. Remove from the heat and whisk in 3/4 cup of the Parmesan; set aside.
Assemble the Moussaka: Spray a 3-quart baking dish with cooking spray. Spread the eggplants and potatoes in the bottom of the dish, layer the meat sauce evenly over the vegetables, top with the bechamel and sprinkle with the remaining 1/4 cup of Parmesan. Bake, uncovered, until the top is browned and slightly puffed, 35 to 40 minutes. Garnish with parsley and serve hot.
Make-Ahead Tip: The unbaked casserole can be covered and refrigerated overnight before baking. The baked casserole can be frozen for up to 2 weeks; cover with foil and reheat at 175°C until hot, 35 to 45 minutes.
View More Recipes
Browse Products
Refine Search