Liver and onions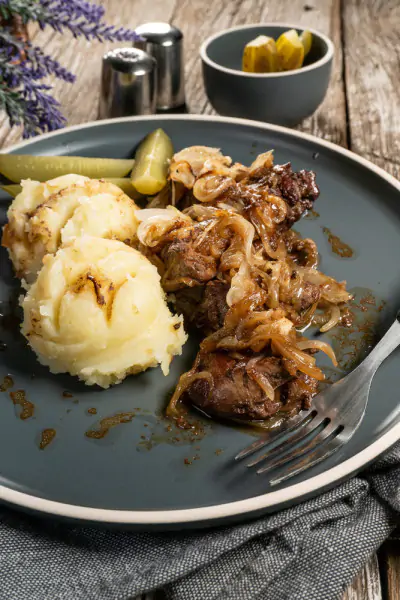 Cooking Method
Heat half the oil and half the butter in a saucepan over low heat, add the onions, and gently cook them for 10 minutes until soft and just starting to turn golden.
Meanwhile, rinse the liver, then pat dry with kitchen paper. If it is not already sliced, cut it into thin slices. Toss each piece in the flour, seasoned with salt and pepper.
Add the tomatoes with their juice, the stock, Worcestershire sauce, tomato purée, and herbs to the onions and bring to boil. Reduce the heat, cover, and leave to cook on a gentle simmer, stirring occasionally.
Meanwhile, heat the remaining oil and butter in a large frying pan over moderate heat until sizzling. Add the liver and bacon and fry for 3–4 minutes on each side until the liver is just cooked and the bacon is lightly browned and crispy. Do not cook for too long or the liver will become tough.
Remove the liver and bacon from the pan using a draining spoon and put onto warm serving plates, with the bacon scattered over the top of the liver. Spoon the onion and tomato sauce on the side, then top each serving with soured cream and sprinkle with parsley. Serve immediately.
View More Recipes
Browse Products
Refine Search